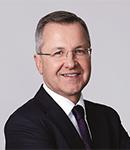 Andrew has over 40 years experience in senior commercial, legal practice, government and academic roles. He is currently an Executive Director of The Tax Institute and a Senior Fellow of the University of Melbourne Law School. Before being appointed to the FRC, Andrew was a member of the Audit and Risk Committee of the Australian Accounting Standards Board and the Auditing and Assurance Standards Board.
Previously, Andrew served as Second Commissioner of Taxation at the Australian Taxation Office. He was also a Director‑Partner at Greenwoods & Freehills for over 20 years, including Managing Director of the firm between 2006 and 2011 and has held senior roles in the financial services companies.
Andrew has a Bachelor of Business from the University of Technology, Sydney, a Graduate Diploma of Tax Law from Charles Sturt University and a Master of Laws from the University of New South Wales. He is also a Chartered Tax Adviser, a member of the International Fiscal Association and has completed the Australian Institute of Company Directors course.
Andrew was appointed as the Chair of the FRC and an FRC member on 30 March 2022 and his term ends on 29 March 2025