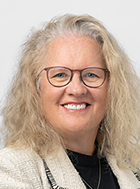 Rachel has over 30 years' experience in the financial services sector and was the Chief Financial Officer for Challenger Group until 1 December 2022 after which time she has focussed on Non-Executive Director roles.
In 2011, Rachel was appointed President of the Institute of Chartered Accountants Australia and was the President of the International Federation of Accountants (IFAC) – the global organisation for the accountancy profession from 2016 to 2018. Rachel is a Director on the Accounting Professional and Ethical Standards Board and serves as the Chair of the Finance and Risk Committee for Surfing Australia. Rachel has a Bachelor of Business in Accounting from the University of Technology Sydney.
Rachel was appointed to the FRC on 9 June 2023 and her term expires on 8 June 2026.