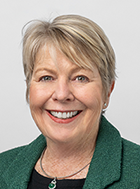 With over 30 years' experience, Pru is a Partner at Brunswick Group and Chair of the National Foundation for Australia China Relations.
Pru is a director of Global Compact Network Australia, a member of the Monetary Authority of Singapore's Corporate Governance Advisory Committee, a council member of the Asian Corporate Governance Association, a member of Deakin University Integrated Reporting Centre Advisory Board and a director of the Value Reporting Foundation. She is a member of Chartered Accountants Australia and New Zealand, a graduate of the Australian Institute of Company Directors, and has a Bachelor of Commerce from the University of New South Wales.
Pru was appointed to the FRC on 9 June 2023 and her term expires on 8 June 2026.