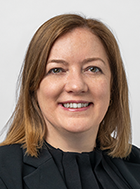 Emma has 25 years' experience in finance, sustainability and non‑financial reporting with specialisation in commercial climate change finance and investment. She is currently a Partner of Climate Change and Sustainability Services at Ernst and Young Oceania.
Emma's previous roles include Chief Executive Officer of Investor Group on Climate Change, Environment Commissioner with the Greater Cities Commission, Head of Sustainability and Executive Director, Emissions and Environment both at Westpac Institutional Bank.
She is also currently a member of the Victorian Government Independent Expert Panel on Interim Targets, the Australian Sustainable Finance Institute (ASFI) Technical Advisory Group, the Queensland Land Restoration Fund Investment Panel and the Green Building Council of Australia (GBCA) Green Star Advisory Committee. Emma is a former Board Member of the Carbon Market Institute.
Emma's qualifications include a Bachelor of Asian Studies (Thai) and United Nations Environment Programme Finance Initiative/United Nations Institute for Training and Research Climate Change: Risks and Opportunities for the Finance Sector certification.
Emma was appointed to the FRC from 22 November 2022 to 21 November 2025.