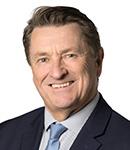 Bill was appointed Chair of the Auditing and Assurance Standards Board (AUASB) on 1 July 2021, having acted in the role since 1 January 2021. He was also previously Chair of the AUASB from 2002 to 2004.
Bill is a retired partner of PricewaterhouseCoopers (PwC), having been a partner for 18 years. For his last eight years he led the PwC Australia Risk and Quality Group, which was responsible for risk management and quality control, including methodologies and technologies, across all of the firm's business units. He served on PwC's Global and Asian Risk and Quality Leadership Teams. He also spent six years leading the PwC Australian Professional Standards Group responsible for the firm's financial reporting and auditing policies and advice.
Bill was the Chair of the Financial Reporting Council (FRC) from 29 April 2016 to 31 December 2020, having been a member of the FRC since 29 July 2014. Bill Edge was re‑appointed to the FRC from 29 July 2022 to 30 June 2023 or until his appointment as Chair of the AUASB ends (whichever is earlier).